'An extraordinary dynamo': Doris Taylor founded Meals on Wheels and helped elect Don Dunstan


This article is republished from The Conversation under a Creative Commons license. Read the original article here.

When Doris Taylor took possession of a new motorised wheelchair in 1951, she quipped: "Heaven help any bureaucrat who gets in my way now."
Few would have dared. For while she may not have been able to walk, Taylor was no walkover. A fearless and passionate advocate for the socially disadvantaged, she refused to sit on the sidelines of society, and had a well-earned reputation for getting things done.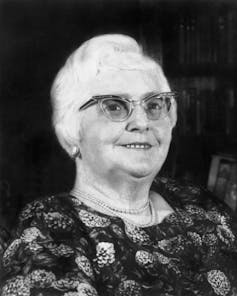 After witnessing poor children forced to scrounge for scraps during the Great Depression, for example, she set up a soup kitchen in the local school.
When she realised elderly people were being institutionalised in psychiatric homes simply because they were undernourished, she founded Meals on Wheels.
And when she wanted a more radical voice in politics, she convinced a young solicitor, Don Dunstan, to join the Australian Labor Party and stand for election in the House of Assembly seat of Norwood. She even managed his election campaign, guiding him to victory.
Dunstan, who would go on to become premier of South Australia, later described Taylor as "an extraordinary dynamo" and "the woman who influenced my career more profoundly than any other, except my first wife Gretel".
"Doris Taylor is one of the great unsung heroines of Australia," he wrote in his memoir, Felicia. "I can never record sufficiently the gratitude I owe her, as do thousands of others."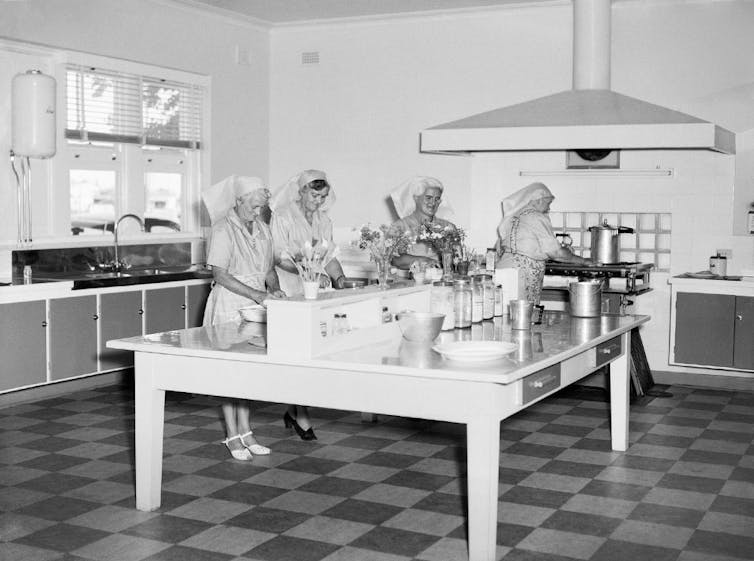 A social conscience wakes
Born on 25 July 1901 in Norwood, South Australia, Taylor was the eldest of four children of bricklayer Thomas Taylor and his wife Angelina. The family moved to Mt Gambier soon after her birth. There, aged seven, she fell from a ladder, leaving her with a bad limp.
Four years later, after the family had returned to Norwood, Taylor damaged her spine in another fall, leaving her paralysed. She endured several operations, spending years in hospitals encased in plaster, unable to move. But when doctors recommended placing Taylor in the Home for Incurables, her mother refused, insisting on taking her home.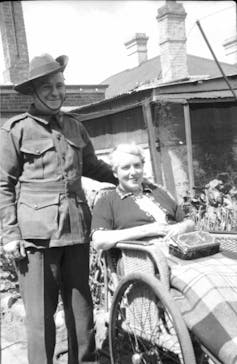 In a wheelchair for the rest of her life, Taylor had only limited movement of her head, shoulders, arms and fingers. Her condition was exacerbated by painful rheumatoid arthritis that rendered her fingers stiff and twisted. She could move nothing else, Dunstan wryly noted, "except other people off their behinds".
Determined to become a useful member of society, she had no time for self-pity, according to Meals on Wheels historian Michael Cudmore. "We are in the world to help each other," she would say.
It was during the Great Depression that her "social conscience really awoke". Passing by a local school, she noticed a small boy taking sandwiches from a box in the playground. The box had been placed there by well-meaning teachers so that children with excess lunch could put some aside for those who had little or none. But Taylor witnessed the shame of the child who had to publicly accept the charity of others.
"This child, who could not get enough lunch, was, like so many others, foraging for food," she recalled. "And there was I gadding about the countryside thinking all was fine in the universe and that sort of tragedy had been going on almost at my front door."
On Taylor's initiative, a small soup kitchen was opened at the school, charging a penny a serve. Those who could not afford it did not pay, but every child was issued with a ticket to avoid the humiliation Taylor had observed at the sandwich box.
---


Read more:
Hidden women of history: Kate Cocks, the pioneering policewoman who fought crime and ran a home for babies – but was no saint


---
'Organising genius'
She also became secretary of the Mothers' Club at a local kindergarten, a role that always amused her ("fancy me, an old maid running the Mothers' Club"), organising events to raise money to buy new clothes for the children and food vouchers for their families.
An enthusiastic member of her local branch of the ALP, Taylor served as secretary on various committees and helped to organise a house-to-house survey of local housing conditions. She also worked with trade unions, representing them on the Good Neighbour Council, set up to assist newly arrived European migrants in the post-war years.
An adept one-fingered typist, Taylor spent most of her days writing on a small portable typewriter and answering a telephone mounted on an arm near her bed. She was an "organising genius", cultivating a long list of contacts in the media and politics, some of whom learnt the hard way never to underestimate her.
Observers marvelled at the long distances she travelled, in all weather, steering her petrol-powered wheelchair with her shoulders.
"Her telephone is one of the busiest in Adelaide," a News journalist noted in 1958. "She works from 7am to 11pm, guiding and directing by phone, letter and talks at meetings and clubs."
Widely and "extremely well-read" in politics, philosophy, literature and the arts, Taylor taught herself several languages, including Russian. She also found time to read twice a week to a blind ex-schoolmaster.
In 1952, as secretary of the West Norwood ALP sub-branch, Taylor decided Don Dunstan was the right candidate to win the seat of Norwood and achieve the radical reforms she wanted to see in South Australia. Dunstan recalled how she managed his first election campaign "in her own inimitable way". The sitting Liberal and Country League member he defeated was Taylor's cousin.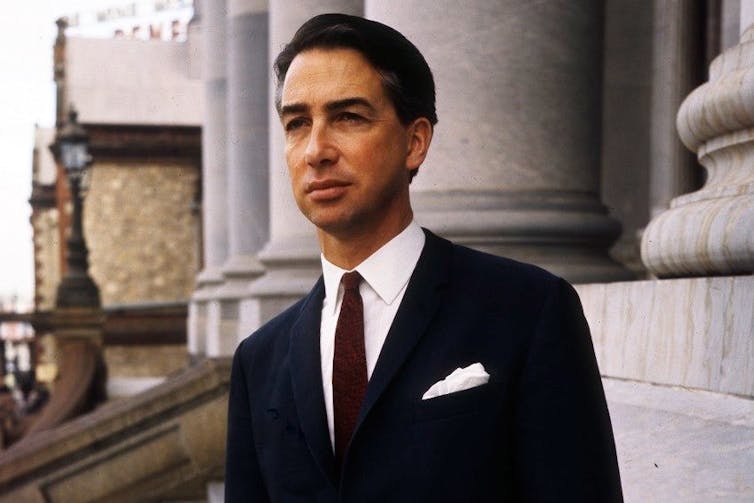 'A Home for the Aged feels quite wrong'
But Taylor's major concerns were always for the aged, the housebound and the disabled. She felt a tremendous empathy for elderly people who were being forced out of their homes and into institutions. After World War II, she joined the South Australian Pensioners' League, becoming its public relations officer.
"The idea of a Home for the Aged seems quite wrong to me," she wrote in 1955.
Any community that segregates any part or group of its people is unhealthy, unbalanced. The community needs its aged people as much as they need and want to remain a part of the community.
Medical research confirmed Taylor's suspicions that the elderly deteriorated more rapidly – mentally and physically – when undernourished. And she was "appalled" to discover that hundreds of old people committed to a local psychiatric hospital had been judged to be "quite sane" after just a few weeks of nourishing meals yet were "doomed to end their days in an overcrowded mental hospital" because they had nowhere else to go.
After hearing of home-based meal services operating in England and South Melbourne, home of Australia's first (initially bike-powered) meal delivery service, Taylor struck on the concept for Meals on Wheels. On a wet afternoon in October 1953, she pitched her idea to a meeting of 96 pensioners, paying the rent for the hall from her own pocket.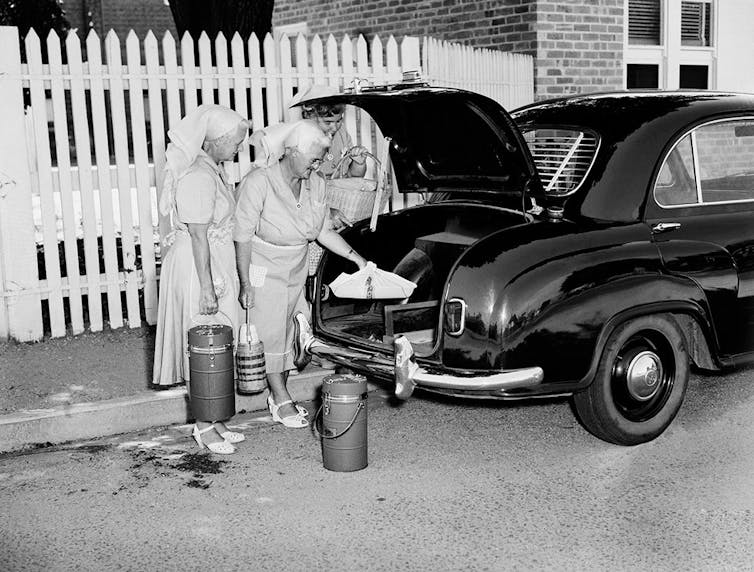 Those attending were enthusiastic, contributing £5 for initial expenses. Taylor also convinced the local paper owned by a young Rupert Murdoch to get behind the scheme and run a subscription fund. Dunstan, by that time the newly elected member for Norwood, was enlisted to help draft the organisation's constitution and became its first chairman.
---


Read more:
Friday essay: love in the time of incontinence – why young people don't have the monopoly on love, or even sex


---
A bold social experiment
From the outset, Taylor was adamant that Meals on Wheels would not be a charity "but a social experiment" users would pay for. The first Meals on Wheels kitchen opened in Port Adelaide on 9 August 1954, operating from a Nissen Hut donated by a local businessman on land provided by the Port Adelaide City Council. Despite the lack of a working sink, 11 "heroic volunteers" prepared and delivered eight meals.
Other kitchens quickly followed at Norwood, Hindmarsh and Woodville. The organisation grew into a statewide body, providing a model for other states and countries to follow. Ten years after it began, Meals on Wheels served its millionth meal.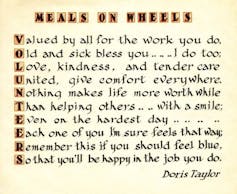 Taylor devoted the rest of her life to promoting the organisation, giving regular radio broadcasts and addressing hundreds of meetings across Australia. She accomplished this all in a volunteer capacity until the state body of Meals on Wheels appointed her as a paid organiser in 1958. The following year, she was awarded an MBE.
Paying tribute to Taylor's efforts on the tenth anniversary of the organisation, Advertiser journalist Stewart Cockburn observed: "She worked, she talked, she argued, she battered with a ferocity of purpose at the doors of half the leaders of the South Australian community."
Doris Taylor died on 23 May 1968, aged 66 years, but her legacy lives on. Today, Meals on Wheels delivers in excess of ten million meals to more than 120,000 clients Australia-wide each year. The South Australian electorate of Taylor is also named after her.
---
The author's grandmother, Lil Wendt, was a life member of the West Torrens branch of Meals on Wheels, and she has fond memories as a child visiting the kitchen and observing the adults at work.


This article is republished from The Conversation under a Creative Commons license. Read the original article here.