Can Australia recapture the spirit of middle power diplomacy?


This article is republished from The Conversation under a Creative Commons license. Read the original article here.

Australia faces many global and regional challenges – the human and economic toll of the pandemic, the rippling effects of the Russian invasion of Ukraine, troubled relations with Pacific Island countries. But the most consequential of all is US–China rivalry. With the not-so-peaceful rise of China and the waning of American supremacy, Australia has been walking a tightrope, and for the past couple of years the balancing act has not been entirely successful.
The change of government is a good time to discuss Australia's top foreign policy priorities and how to deal with them. Revisiting the "middle power" concept – what it means and how it works – can help clarify how Australia can better handle these challenging times.
Australia as a middle power
Although not everyone agrees about what defines a middle power, Australia is consistently considered to be among them, as measured by material capabilities, international behaviour and/or self-identity. Even if we define middle powers according to the outcomes rather than the intent of their actions, Australia has been a typical, if not quintessential, middle power. The Lowy Institute Asian Power Index confirms that much.
The most frequently named middle powers have shown a strong commitment to seeking multilateral and cooperative solutions to global and regional issues (with emerging middle powers more focused on their regions).
This is a rational choice, not least because these nations have neither the sheer material power nor the "soft power" afforded to great powers.
Multilateral diplomacy works well for middle powers. Separately, they are vulnerable to great power rivalry; together, they can have a more significant impact on the international system.
Strategic ambiguity (as opposed to blind loyalty to certain powers or groupings) also works well for middle powers. Taking sides can increase the risk for smaller states in a conflict between great powers. China has certainly noticed what it calls a "cold war mentality" in relation to Australia's increasingly close ties to the US.
What went wrong
No matter what is defined as "the national interest" by the government of the day, Australia has two enduring interests: a security interest aligned with the west and an economic interest increasingly aligned with the east.
The defence alliance with the US is vital to Australia's national security. But China continues to be Australia's largest trade partner, with Asia accounting for 65% of Australian's two-way trade in 2021.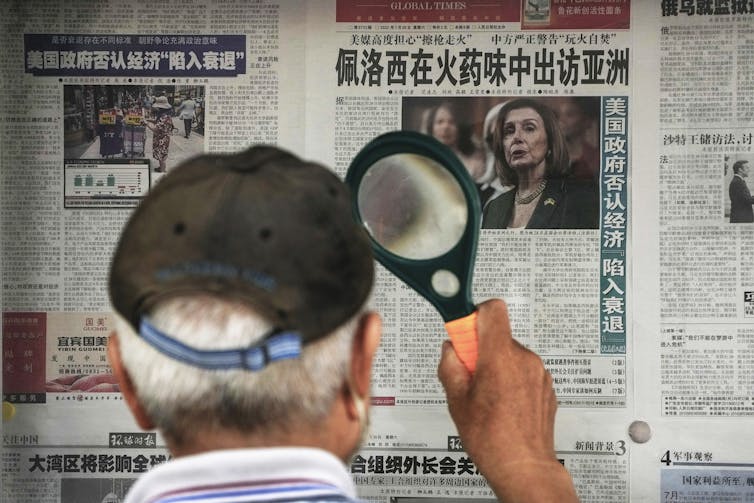 This is why, despite all its political and security concerns, Australia has traditionally sought to maintain a balance between its strong economic relationship with China and its defence alliance with the US. In return, China expressed its appreciation at times when Australia acted independently of the United States. The policy of strategic ambiguity appears to have worked in Australia's favour when it came to Taiwan and other issues extremely sensitive to China.
But Australia–China ties have hit a rough patch recently. The starting point was China's provocative activities in the South China Sea and the global impact of its Belt and Road Initiative. That friction was compounded by Australia's eager embrace of the United States' vision for the Indo-Pacific.
China has doubled down on its economic and diplomatic coercion since at least 2017. More recently, in response to the Morrison government's call for an independent investigation into the origin of COVID-19, it has imposed sanctions on many Australian exports.
In response, Australia further cemented its alliance with the US. It helped revive the Quad grouping with India, Japan and the US in 2017, and joined AUKUS, the Australia–UK–US enhanced strategic partnership, in 2021.
The problems multiply
While the economic impact of China's sanctions has been mild in the short term, there is no telling the future. The disruption of global supply chains due to COVID-19 and now the Russian invasion of Ukraine highlights China's dominant role in business-to-business trade.
Not only has the prolonged war in Ukraine caused a worldwide cost-of-living crisis, but it also showcases the vulnerability of smaller states and the further decline of the US-led world order. Putting all eggs in one basket may not be a wise choice for Australia.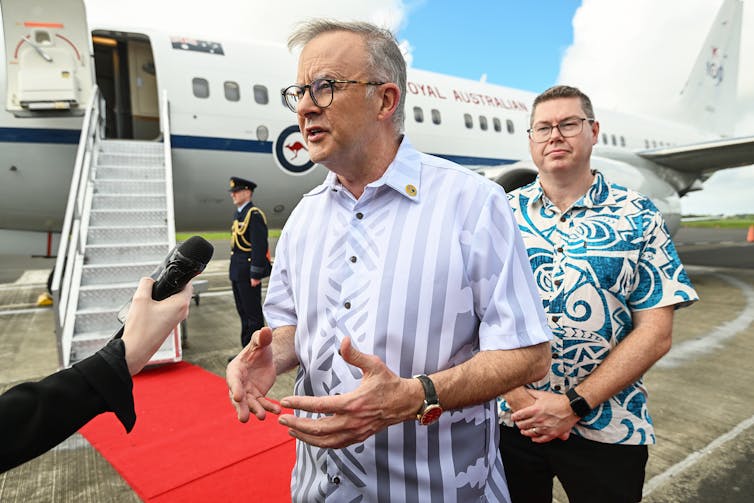 Besides the China problem, Australian relations with Pacific Island countries have seen better days. Among the reasons for the deterioration are Australia's reluctance to join forces to mitigate climate change, and its transactional approach to bilateral relations with neighbours.
Australia's growing defence reliance on the US also polarises key partners in Southeast Asia. Regional powers like Vietnam and Indonesia are vying for multilateralism and cautious about antagonising China. Probably not helpful was the previous government's scepticism about international organisations together with a longer-term decline in resources for engagement, evidenced by the fact that funding for the Department of Foreign Affairs and Trade has declined over the past three decades.
The way forward
To deal with these challenges, Australia needs a (re-)balancing act based on bilateral and multilateral diplomacy involving a wider pool of key stakeholders in the Indo-Pacific.
Less provocative rhetoric and efforts to identify mutual interests can help de-escalate the tension with China. Diplomacy should be brought back into the forefront, as the new government has sought to do.
Of course, a complete reset of China–Australia ties is unlikely given deep-seated human rights and national security concerns. But the American alliance doesn't have to come at the cost of derailing trade relations with China. To reduce trade dependence on China, meanwhile, Australia should strengthen relations with India, ASEAN and other trading partners.
---


Read more:
Beyond boats, beef and Bali: Albanese's unfinished business with Indonesia


---
To that end, Australia must show Asia and the Pacific that it is a responsible and reliable partner, a "good international citizen". Expanding development aid, education programs, cultural exchanges and other public diplomacy initiatives can help a great deal. "Climate change" is a common concern among these partners, and should be at the centre of the discussion.
Diplomacy is a long game. It is harder to mend relationships than to break them. It may take a while for Australia to see how diplomacy can help, but middle power diplomacy definitely serves Australia's national interest.


This article is republished from The Conversation under a Creative Commons license. Read the original article here.