darker musical influences make season two a more complex, but satisfying watch


This article is republished from The Conversation under a Creative Commons license. Read the original article here.

Warning: the following article contains spoilers for Schmigadoon! series one and two.
Apple TV's musical comedy Schmigadoon! has just aired its second series. It follows couple Josh (Keegan-Michael Key) and Melissa (Cecily Strong) in their adventures in the magical town of Schmigadoon, which they stumble across while backpacking.
The musical town of the show's first season is an amalgamation of the golden age musicals of the 1940s and 1950s. Think Oklahoma! (1943), Carousel (1945) and The Music Man (1957) – simple romantic storylines and a happy cast of characters who frequently burst into song for no reason.
Melissa loves these musicals and can predict the course of events based on their familiar formula. Following the plot of Brigadoon (1954), the couple can only leave the town when they find love – that is, when they fix their rocky relationship. Happily, it works: the corny musical tropes become deeply meaningful and a vital therapeutic resource for the couple.
When we meet them at the start of season two, Josh and Melissa are enjoying the doping effects of the musical and its required suspension of disbelief. They marry and decide to start a family.
However, when their fertility journey proves difficult, reality hits hard. Compared with the dopamine-fest of season one, their situation feels bleak.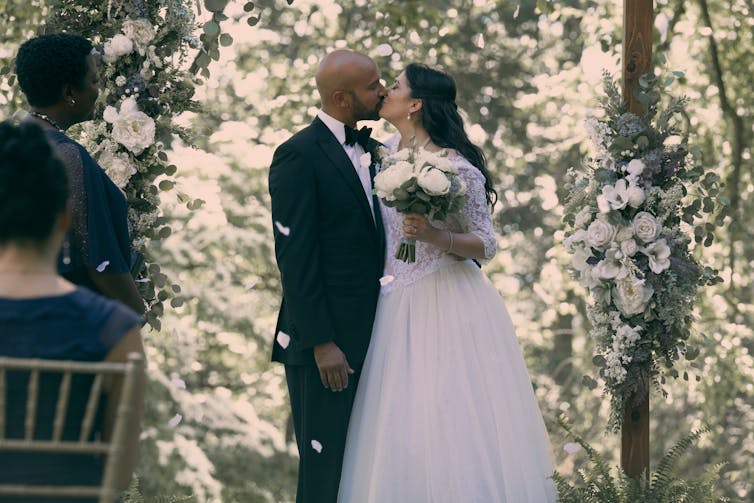 German playwright and theorist Bertolt Brecht found "autonomous" dramatic music (music for music's sake) suspicious. He believed that theatre should be used to challenge audiences and promote social ideas and self-reflection. This is threatened by pleasure-focused operas and musicals.
Brecht believed that dramatic music's seductive charms could dupe audiences into submission, so the musical comprised a dangerous smokescreen. In Josh and Melissa's case, the musical has distorted their sense of reality and they are about to enter a world of danger.
The musical darkens
As Schmigadoon did a great job of solving their problems last time, the couple decide to return, hoping it will once again work its magic. When they find the town, however, it has transitioned into Schmicago: the dark, sensual era of the 1960s and 1970s musicals such as Cabaret (1966), Chicago (1975) and Sweeney Todd (1979).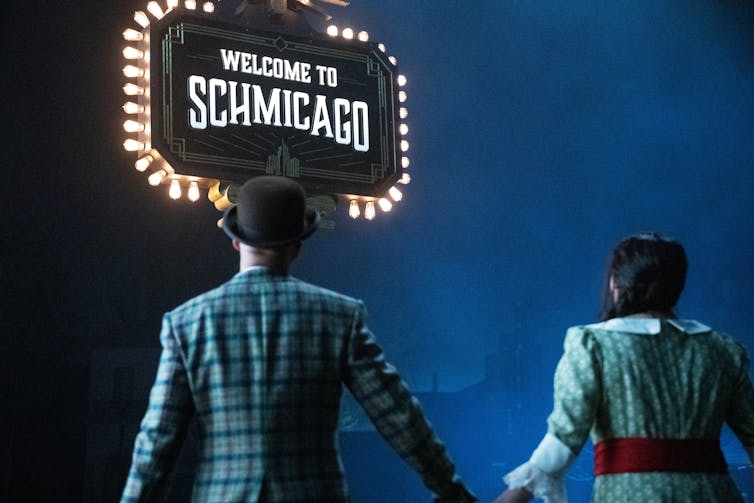 This era is more concerned with terror, excitement, shock and disgust – themes familiar in gothic fiction. These musicals resemble the formulaic gothic dramas of excess, hyperbole and fantasy, which garnered a similar mass appeal from the late 18th century.
This era was also associated with concept musicals, which rejected traditional storylines and linear narratives in favour of abstract ideas.
As concept musicals experimented with traditional structural boundaries, lines between reality and fantasy became unstable, providing a maze-like structure for eccentric stories to be told.
The characters in Schmicago musicals reflect those in English gothic fin-de-siècle novels.
Oscar Wilde's Dorian Gray loses his identity in his picture, the identity of Robert Louis Stevenson's Dr Jekyll becomes entangled with Mr Hyde and the victims of Bram Stoker's Dracula lose theirs in vampirism.
---


Read more:
Bram Stoker's Dracula: bats, garlic, disturbing sexualities and a declining empire


---
Meanwhile, Sweeney Todd is overwhelmed with revenge, Cabaret's Sally Bowles sports an impenetrably vivacious facade and the world of law in Chicago is hopelessly subsumed in the world of show business.
The unconventional forms of these musicals represent their characters' damaged boundaries: their inability to maintain a clear sense of morality, or to keep their delusions from infecting reality.
How season two deviates
Season one followed the structure of a golden age musical. Josh and Melissa inevitably realised their love for each other and escaped. Season two's outcome, however, is less predictable. The musicals of this era have no clear moral and the couple have no idea what lesson they must learn in order to escape.
What's more, the Narrator (Titus Burgess) is highly unreliable. While Melissa is an expert in old-timey musicals, she is less familiar with the Schmicago era. Her lack of foresight allows the narrative to take a chaotic shape.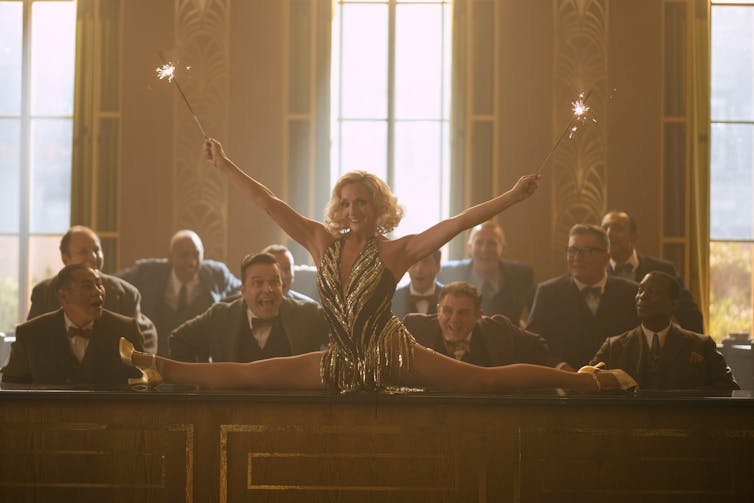 The couple are trapped in a place that is apparently trying to destroy them. As this era is more about survival than happiness, they are forced to confront the fact that – as in many gothic tales – the only solution might be to kill the villain. The moral of the story becomes harder to untangle.
The Narrator is based on the narrator of Pippin (1972), the Leading Player who, in the show's climax, tries to convince Pippin to set himself on fire for the "thrilling finale". When Josh and Melissa are about to leave Schmicago, the townspeople try to persuade them to stay and avoid the misery of reality.
The Narrator's plea for them to stay in the world of "magic" echoes the Leading Player's plea for Pippin to give up his life to perform one glorious feat of spectacle. Like Pippin, however, Josh and Melissa refuse: all they want is something real.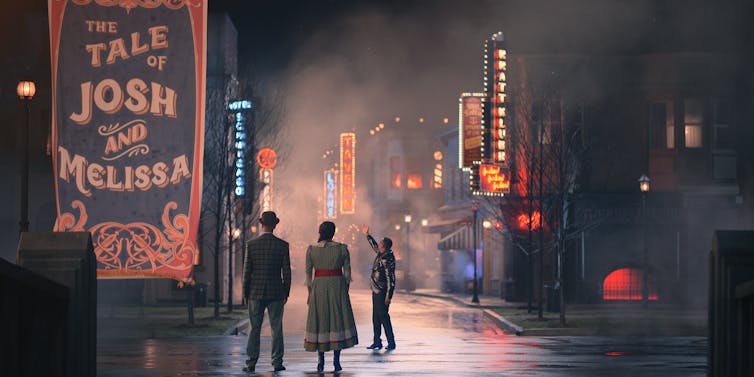 As it turns out, this was the lesson all along. The magic of a musical is only effective when contrasted with reality. Indeed, that is the appeal of a Schmicago musical, which integrates misery with joy to create a stronger emotional impact.
Schmicago teaches that musical logic is not meant to be applied directly to reality, or necessarily untangled, but used in configuration with reality to draw personal conclusions. The musical's effect becomes enlightening rather than doping, providing catharsis and self-knowledge.


This article is republished from The Conversation under a Creative Commons license. Read the original article here.