Enrico Caruso: the first big opera star of the 20th century


This article is republished from The Conversation under a Creative Commons license. Read the original article here.

25 February 2023 marks the 150th anniversary of the birth of Enrico Caruso, one of the most admired tenors in history and one of the first to have his voice preserved for posterity through phonographic recordings.
Caruso before Caruso
Caruso was born in Naples in 1873. Just 14 months earlier, the world premiere of Verdi's opera Aida had taken place. Caruso was to play its Radamès years later.
Some of the roles that would later catapult him to fame (Maurizio in Adriana Lecouvreur, Loris in Fedora, Mario in Tosca or Pinkerton in Madama Butterfly, among others) had not even been written when he was born.
Caruso grew up in a family of limited means. From the age of ten he combined working as a mechanic with occasional performances as a street singer. In 1891 he really began his training with the maestro Guglielmo Vergine. The first time Vergine heard him, he was not optimistic: È 'na voce 'e niente ("It's a voice and nothing else"), he said. But Caruso's perseverance would soon pay off.
His official debut came in 1894 at the Teatro Nuovo in Naples in L'amico Francesco by Mario Morelli.
Four years later he would begin one of the most promising chapters of his career with the world premieres at the Teatro Lírico in Milan of works such as L'Arlesiana (1897), Fedora (1898) and Adriana Lecouvreur (1902).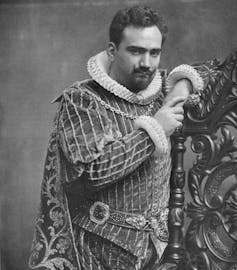 Also in 1902 he made his debut at London's Covent Garden in Rigoletto. He starred again in Rigoletto on his successful first appearance at the Metropolitan Opera in New York the following year, beginning a very active relationship with the American opera house. He would come to dominate every season until 1920.
Failure in Barcelona
Rigoletto would also be his performance debut in Spain – and his only appearance on the Spanish stage.
On 20 and 23 April 1904, Caruso took part in two productions of Rigoletto at the Gran Teatro del Liceo in Barcelona, never to perform there again.
The day after the first performance, the Diario de Barcelona noted:
Mr. Caruso had to repeat la ballatta in the first act and in the third, and for three times, La donna è mobile: with this it could be considered that the famous tenor obtained a great success last night. However, it was not so. Mr. Caruso, who has, as is so often the case with artists, his good and bad days, was not in one of the former, and his great powers, which were undoubtedly manifested, could not be appreciated in all their purity, and were sometimes tarnished by the insecurity of intonation, which is one of the things that our public finds most difficult to conceal and which they did not want to let pass without protest, especially in the duet of the second act, where the artist was most discomposed.
The second and final performance seems to have had no better reception. The precedent set by fellow singer Angelo Masini cannot have helped. Masini was so successful in his performances of Rigoletto in the late 19th century that on several occasions he sang four, five and even six encores of "La donna è mobile".
Improper behaviour?
It wasn't all plain sailing for the tenor. On 17 November 1906 The New York Times mentioned Caruso on its front page, but this time it wasn't a musical review.
The tenor had been arrested the day before for "annoying" a woman who was near him in the monkey house at the Central Park Zoo. According to the next day's newspapers, Caruso insisted on his total innocence and claimed that the police might have made a mistake. His friend Heinrich Conried, director of the Met, posted $500 bail to release him from jail.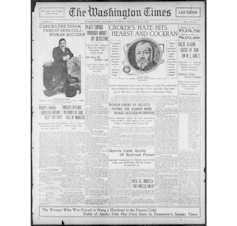 The Caruso case reached every corner of New York. The press dubbed it "the monkey scandal", and it was seized upon by racist sectors of American society as an opportunity to attack the Italian population. According to historian David Suisman in an article in Believer magazine, a former New York police chief told the newspaper that "the arrest of Caruso… was an outrage" and "his conviction was had on no evidence at all…".
When the trial began on 22 November, the prosecution unleashed broader charges against Caruso, accusing him of harassing several women. The police officer who arrested him testified that Caruso molested not only the first but also five other women in four separate incidents at the monkey house. Caruso was ordered to pay the maximum fine at the time: $10, which today would be about $275.
Caruso at home
The uniqueness of Caruso's voice came to the stage at the perfect time: when the transition from romantic tenor to the verismo tenor was taking place, requiring almost unwavering voices.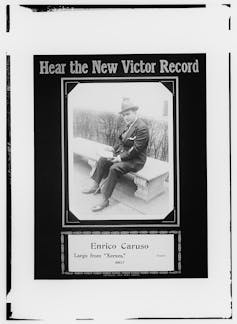 But it also coincided with the beginnings of phonography, in which Caruso's voice not only fitted, but was "the answer to a recording man's dream", according to Fred Gaisberg, music producer of the British company Gramophone. Attracted by the Neapolitan's fame, in 1902 Gaisberg offered Caruso the chance to record ten arias. These were to be followed by many more.
With Caruso, the recording industry generated a mass market. Listeners no longer needed to travel to an opera house to enjoy his voice, but could now listen to it in their own homes over and over again.
I am no longer a man, I am a money-making machine. A device that produces dividends. They force me to live in a glass box, not because they value me. Caruso is just a throat that I have sold to managers like Faust sold his soul to Mephistopheles".
After the tenor's death in 1921, aged just 48, his commercial phenomenon took on an unprecedented dimension. His voice could no longer be heard on stage but had been immortalised in recordings, thus increasing his appeal.
The "Caruso phenomenon" had only just begun. It marked the dividing line between two eras: that of ephemeral music and that of recorded music. No one had the tenor's projection and influence in the recording industry of the early 20th century.
One early advertisement called his recordings "one of the most natural and faithful portraits of Caruso ever taken". Another, published after the tenor's death, noted: "You hear the real Caruso".


This article is republished from The Conversation under a Creative Commons license. Read the original article here.