Garma is a festival of political discussion and celebration of culture. Will the Voice be a central theme?


This article is republished from The Conversation under a Creative Commons license. Read the original article here.

Aboriginal and Torres Strait Islander readers are advised this article mentions people who have passed away. Names have been withheld out of respect for Sorry Business.
The Garma Festival in Arnhem Land in the Northern Territory begins today. The annual event brings Indigenous and non-Indigenous people together in celebration of Yolgnu culture, tradition and knowledges.
Garma draws leaders from business, industry, research, education and politics. Over the four-day event there a range of scheduled activities for guests. These include cultural workshops, art exhibits, dance performances, Indigenous cinema, and forums.
Over the years, Garma has grown to include greater focus on important political and social issues relevant to Aboriginal and Torres Strait Islanders communities. Matters such as land rights, truth-telling, and constitutional recognition.
The political significance of Garma cannot be understated with sitting prime ministers often attending (Tony Abbott, Malcolm Turnbull, Anthony Albanese), as well as First Nations leaders such as Marcia Langton, Noel Pearson, and a senior Gumatj leader, who started the festival, who passed away earlier this year.
Garma has become an important arena for meaningful dialogue, and the discussions that happen at the event reverberate around Australia for the weeks and months following. Recognise, Reconciliation Australia's constitutional recognition campaign arm, attended Garma in 2013 to garner support for constitutional recognition for Indigenous peoples.
As we wait for the announcement on the referendum date, there is interest about what might emerge from this year's Garma event.
The history of Garma
Garma was first held in 1999. It was conceived by the Yothu Yindi Foundation, a group formed by the five regional Yolgnu clan groups; Gumatj, Rirratjingu, Djapu, Galpu and Wangurri.
The festival started small but grew into Australia's largest Indigenous event, bringing thousands of people to remote North East Arnhem Land. A location, 40km from Nhulunbuy, that is culturally significant for the Yolgnu people.
One of the features of Garma is the Key Forum Conference.
---


Read more:
Grattan on Friday: Trying to dodge talking about 'treaty' could do the Voice campaign more harm than good


---
The Key Forum Conference
The Key Forum Conference is running again this year and is being facilitated by
• Mayatili Marika, a Rirratjingu Traditional Owner and Yolŋu woman
• Shelley Ware, an AFL and media presenter
• Sean Bowden, a Nortern Territroy lawyer
This conference provides space for Indigenous and non-Indigenous political leaders to engage on important issues and "about the future of Aboriginal and Torres Strait Islander people in the Australian nation".
Over the last few events, the Key Forum Conference has been focused on constitutional recognition and the Uluru Statement from the Heart.
It was at the conference in 2017, where then opposition leader Bill Shorten announced:
Labor supports a Voice for Aboriginal people in our Constitution, we support a declaration by all parliaments, we support a truth-telling commission.
At 2018's event, Deputy Chair of the Yothu Yindi Foundation Djunga Djunga Yunupingu, called for the government to engage in truth-telling and reconciliation, to embrace an Indigenous Voice to Parliament and to move towards treaty-making.
In 2019, a senior Gumatj leader reiterated the Yolgnu's wishes for greater recognition.
And at last year's event, Prime Minister Anthony Albanese declared in his keynote address the "Government's solemn promise to implement the Uluru Statement from the Heart, in full".
Momentum has been building around constitutional recognition and Garma's Key Forum Conference has played a major role in bringing this issue to the forefront of public discussion.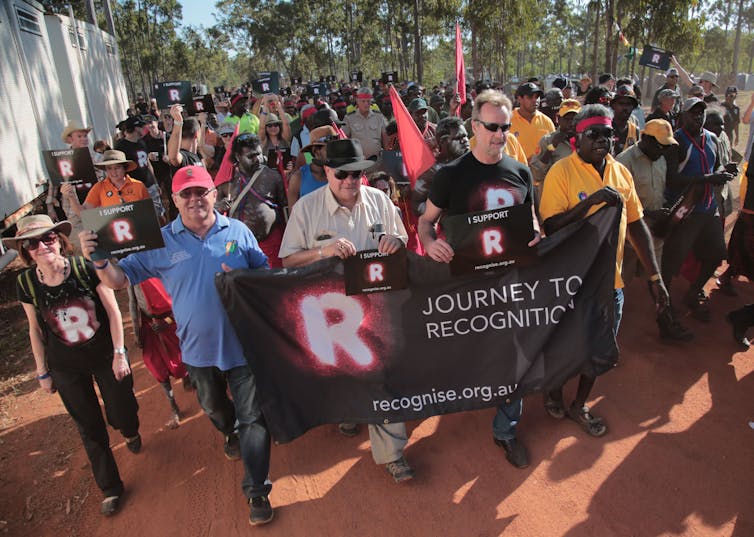 So what is happening at Garma this year?
There will certainly be a focus on the Voice to Parliament and the upcoming referendum this year at Garma.
The prime minister and Indigenous Affairs Minister Linda Burney will be in attendance this year. Opposition Leader Peter Dutton, however, declined the PM's invitation to attend.
Dutton explained on 2GB:
I'm not going up there to pretend that I'm somebody that I'm not. I'm a genuine person, I'm straightforward, I've looked at this meticulously. I'm not supporting the Voice.
However Dutton's fellow party member, Julian Leeser, will be in attendance. Leeser will be participating in a panel discussion with MP Marion Scrymgour. In April this year, Leeser stood down from the opposition frontbench to campaign for the Voice, clashing with his party on the issue.
With the announcement of the date for the referendum nearing, this year's Garma event is sure to foster robust discussions about the Voice to Parliament.
In the coming days we will see what topics were covered at the event, and potentially get a clearer picture of the direction the government is taking on the referendum and other key areas such as truth-telling, Treaty and reconciliation.


This article is republished from The Conversation under a Creative Commons license. Read the original article here.