Many people think it's impossible to be LGBTQ+ and religious – this 'homosecularism' is dangerous for asylum seekers


This article is republished from The Conversation under a Creative Commons license. Read the original article here.

The UK government's plan to send refugees and asylum seekers to Rwanda has been controversial from the start. For LGBTQ+ people seeking asylum in the UK, it remains a frightening prospect.
The government has insisted that Rwanda is a safe place for refugees. Yet evidence indicates that persecution based on sexuality is a common occurrence in the country.
Last year, the charity Freedom from Torture submitted a pre-action letter to the Home Office, raising concerns about the safety of LGBTQ+ asylum seekers who could be sent there under the policy.
Persecution due to sexuality is a common reason why people seek asylum. Data shows that almost 11,000 people sought asylum in the UK on the grounds of their sexual orientation between 2015 and 2021.
Several charities are supporting LGBTQ+ Rwandans who have sought refuge in the UK, and I've spoken with activists in the field of LGBTQ+ asylum as part of my ongoing research.
The Home Office has long had a reputation for rejecting LGBTQ+ claimants. One factor influencing this is "homosecularism": the misguided belief that lesbian, gay, bisexual, transgender and queer people are at odds with religion.
Expressing a particular faith in an asylum application is not an automatic barrier to an LGBTQ+ person's claims being accepted. But asylum seekers describing persecution on grounds of their sexuality have reported that Home Office officials asked them questions about whether they had renounced or struggled with their faith, and expressed suspicion that applicants could be both religious and LGBTQ+.
---


Read more:
Asylum claim rejections show the UK government has little understanding of what people are fleeing – and it's costing lives


---
Caught between identities
In my ongoing research, I have come across cases of gay, devout Muslim men who, as an activist described, are "striving to provide convincing evidence of their sexuality" when appealing UK asylum rejections. Another activist told me:
Many gay Muslims are pretending to not be religious because of the fear of having their applications rejected.
Research by Rainbow Migration found that asylum refusal letters have explicitly referenced applicants' religious affiliations. One claimant was told that they had not provided a reasonable explanation as to why they "continued to practice Islam knowing full well that homosexuality is not permitted in the religion".
This scrutiny can make some asylum seekers feel marginalised, invalidating both their sexuality and their religious identity. They feel they are not "LGBTQ+ enough" for the Home Office when expressing a religious identity, while also not being "authentically religious" enough for faith communities because of their gender and sexuality. This has led some to experience depression, anxiety and trauma.
When contacted for comment, a Home Office spokesperson said:
The UK can be rightly proud of its record in providing protection to individuals fleeing persecution based on their sexual orientation or gender identity. Individuals claiming to be at risk of persecution on the grounds of their sexual orientation are, however, expected to be able to satisfy us that they are, or are perceived to be, of the orientation in question.
Research shows that the general LGBTQ+ asylum seeker population struggles with mental health, but less is known about the unique struggles faced by those who are both religious and LGBTQ+.
A member of Spectrum Rainbow, an organisation that supports LGBTQ+ refugees in Doncaster, described the case of a gay religious asylum seeker who, after escaping homophobic violence in his country, was given refugee status in the UK. He ended up working among conservative members of his Kurdish community, leading him to return to the closet and struggle with his mental health. The activist explained:
He went through some very, very hard mental health issues, depression and anxiety, where it got to a point that he committed suicide.
Faith empowering LGBTQ+ people
Homosecularism stems from longstanding tensions between established religions and the LGBTQ+ community, a dynamic that continues to today.
Historically, conservative interpretations of various religious doctrines have vilified queer people. At the same time, many LGBTQ+ rights movements have secular roots, and have challenged conservative religious institutions to advance their cause. We are left with the misconception that LGBTQ+ people must necessarily distance themselves from religion.
However, many LGBTQ+ people maintain strong religious faith and convictions, and navigate complex relationships between these identities. From the world's largest Muslim population in Indonesia to the Metropolitan Community Church of North London, queer people engage with their spirituality and find it empowering. Key figures in gay liberation such as Marsha P. Johnson and Sylvia Rivera remained devoutly Christian throughout their lives.
An asylum seeker in the UK, supported by the queer faith group House of Rainbow, shared how, regardless of the hatred and fear he had experienced for being gay, he now believes that "God adores and loves him". Another, who experienced violence in the name of religion in his country of origin, has found positive ways to practise his faith, after a lifetime of being unable to think of himself as a religious person.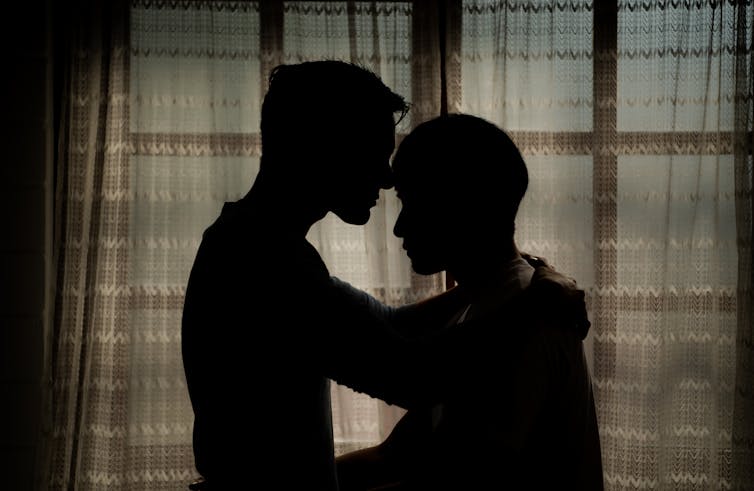 Still, many struggle to find spaces where they can worship. In a recent discussion with members of Spectrum Rainbow, a gay asylum seeker noted they often face exclusion from cultural and religious gatherings in the UK because of their gender and sexuality. Another participant, a Christian lesbian asylum seeker, said:
There are certain places I cannot go to … and most of the time you end up staying home. You don't go to church because you're afraid of what people might say about you.
Another person added that they faced obstacles trying to access religious spaces:
You can't be both gay and Muslim. You have to be one or the other.
Homosecularism affects not only the asylum process, but also the wellbeing of religious LGBTQ+ refugees even after they've been granted asylum. As the UK's asylum policies become stricter, immigration officials must be better trained to recognise the diverse experiences of LGBTQ+ asylum seekers. The biases of homosecularism should not be the reason to dismiss valid asylum claims and return vulnerable people to danger.


This article is republished from The Conversation under a Creative Commons license. Read the original article here.