Netflix and other streaming giants pay to get branded buttons on your remote control. Local TV services can't afford to keep up


This article is republished from The Conversation under a Creative Commons license. Read the original article here.

If you've bought a new smart TV in the past few years, you'll likely have a remote with pre-programmed app shortcuts, such as the now ubiquitous "Netflix button".
These branded buttons offer one-click access to select apps.
The choice and design of shortcuts vary between brands.
Samsung remotes have a monochrome design with small buttons for Netflix, Disney+, Prime Video and Samsung TV Plus. Hisense remotes are overflowing with 12 big, colourful buttons advertising everything from Stan and Kayo to NBA League Pass and Kidoodle.
The remote is now a thoroughly commercial space.
Behind these buttons there is a lucrative business model. Content providers purchase remote shortcut buttons as part of negotiated deals with manufacturers.
For streaming services, presence on the remote control provides branding opportunities and a convenient entry point into their app. For television manufacturers, it provides a new revenue stream.
But the TV user must tolerate unwanted advertising every time they pick up their remote. And smaller apps – including many Australian apps – are disadvantaged because they are typically priced out of the market.

Who's on your remote?
Our research examined remotes for 2022-model smart TVs from the five major television brands sold in Australia: Samsung, LG, Sony, Hisense and TCL.
We found all major-brand TVs sold in Australia have dedicated buttons for Netflix and Prime Video. Most also have Disney+ and YouTube buttons.
However, local services are harder to find on remotes. A few brands have Stan and Kayo buttons, but only Hisense has an ABC iview button. None have buttons for SBS On Demand, 7Plus, 9Now or 10Play.
---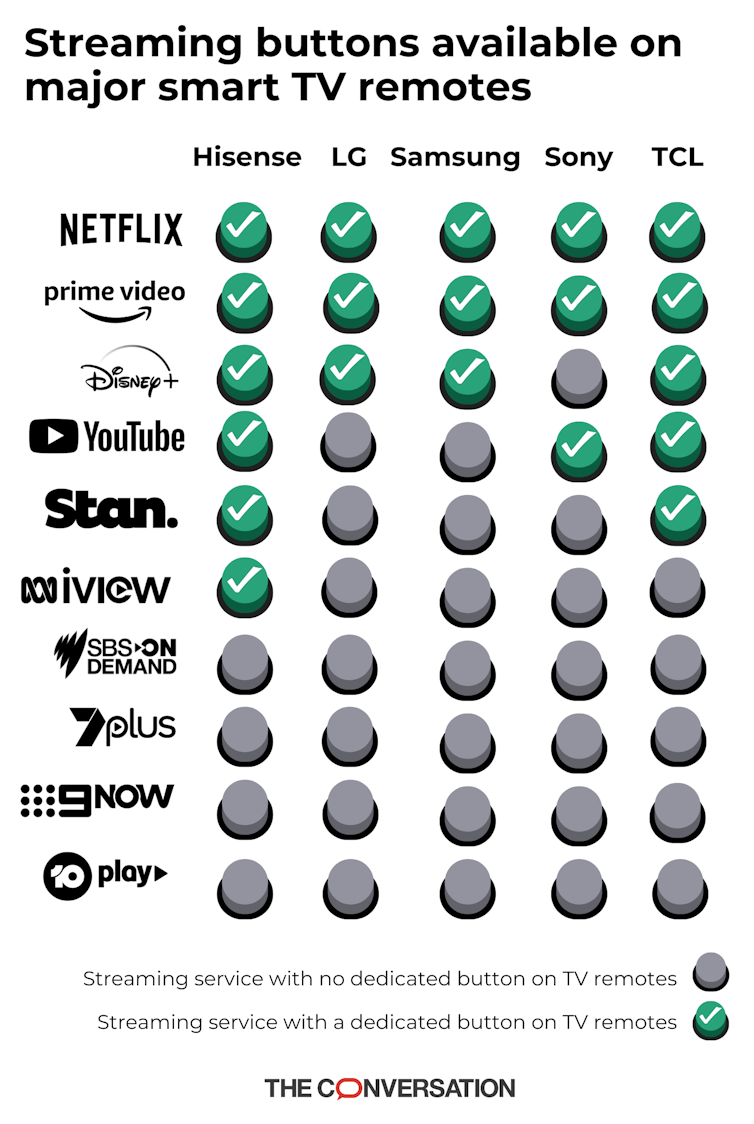 ---
Remote shortcuts are part of a larger battle for brand visibility in smart TV interfaces.
Since 2019, regulators in Europe and the United Kingdom have been investigating the smart TV market. They have uncovered some questionable business arrangements between manufacturers, platforms and apps.
Following this lead, the Australian government is conducting its own investigations and developing a new framework to ensure local services can be easily found on smart TVs and streaming devices.
One proposal under consideration is a "must-carry" or "must-promote" framework that would require local apps to receive equal (or even special) treatment within the home screens of smart TVs. This option is enthusiastically supported by the broadcasters' lobby group, Free TV Australia.
Free TV is also arguing for a mandatory "Free TV" button on all remotes that would bring the user to a landing page with all of the local free-to-air video-on-demand apps: ABC iview, SBS On Demand, 7Plus, 9Now and 10Play.
---


Read more:
Streaming platforms will soon be required to invest more in Australian TV and films, which could be good news for our screen sector


---
But what do we want on our remotes?
We asked more than 1,000 Australian smart TV users which four shortcut buttons they would include if they could design their own remote control. We asked
them to select options from a long list of locally available apps, or write their own choices, up to four.
The clear favourite was Netflix (selected by 75% of respondents), followed by YouTube (56%), Disney+ (33%), ABC iview (28%), Prime Video (28%) and SBS On Demand (26%).
All other services were selected by fewer than a quarter of respondents.
SBS On Demand and ABC iview are the only services in the top-ranked apps list not to routinely receive their own remote control buttons. So, based on what we found, there's a solid policy rationale for mandating some kind of presence on our remotes for public-service broadcasters.
But it is also clear no-one wants their Netflix button messed with. So government needs to tread carefully to ensure user preferences are respected in any future regulation of smart TVs and remotes.
In our survey respondents also raised an interesting question: why can't we choose our own remote control shortcuts?
While some manufacturers (notably LG) allow limited customisation of their remotes, the general trend in remote control design has been towards increased branding and monetisation of positioning. It is unlikely this will be reversed anytime soon.
In other words, your remote is now part of the global streaming wars – and will remain so for the foreseeable future.
---


Read more:
Can Australian streaming survive a fresh onslaught from overseas?


---


This article is republished from The Conversation under a Creative Commons license. Read the original article here.