Prices are up and the supply of things we need is in flux. How did we get here?


This article is republished from The Conversation under a Creative Commons license. Read the original article here.

This is the second article in The Conversation's series examining Australia's cost of living crisis. Read the first article in the series here.
---
Australia is in a cost-of-living crisis. We know that because the prices typical Australians pay for typical products have been climbing much faster than typical wages, as acknowledged in the standard briefing provided to members of parliament by Australia's Parliamentary Library.
For most of the last century, and certainly for most of the past 20 years, wages have consistently climbed faster than prices, with minor exceptions in 2009 and 2014 when the difference between the two was small – less than 1%.
But since March 2021 prices have been climbing faster than wages.
When inflation peaked in late 2022, the annual consumer price index was climbing 4.4 percentage points faster than wages – a gap that has since shrunk, but remained at 2.4 percentage points in the latest figures for the year to June.
---
---
COVID has played an important part. In the beginning, the pandemic brought prices down, and by a lot. Remember paying 80 cents per litre for petrol?
In the first year of COVID, to the June quarter 2020, Australia went through its first year of negative inflation since 1997. That means that, taken together, prices actually fell.
Fast-forward only two years, and the quarterly consumer price index hit 7.8% in December (and the more experimental monthly index hit 8.4%.)
For those born after the 1980s, this was a first. Going from bottom to top at such a speed only increased the pain.
It began with broken supply chains
The acceleration in inflation began with a mismatch between supply and demand.
Before COVID, the world experienced more than three decades of stability and high predictability in supply chains, thanks to an intense move towards globalisation.
Countries became more specialised, industries and agriculture moved away from the United States and Europe, and manufacturing became leaner by using the just-in-time production model which ensured they met demand, but didn't get stuck with inventories.
This prosperity was based on the assumption that goods and people could move freely across the globe. Until COVID.
Overnight, ports, railroads and trucks saw their operations slashed as people isolated. Air travel came close to a complete shutdown. With insufficient availability, transport prices skyrocketed.
---
---
Then governments sprayed us with money
Then there was a huge increase in demand for products as governments splashed around money in an effort to keep their economies afloat.
Being unable to travel, dine out or get a proper haircut, people went online to buy bicycles, air fryers and hair dryers like never before. Online shopping accelerated faster than expected, with big waiting lists for items as diverse as cars, video games, pool chlorine and pet food.
And supply was constrained by workers having to stay home. Factories couldn't operate at capacity. Because different regions were affected at different times, and most businesses work with low inventories, "just-in-time" struggled.
Parts, components and materials suddenly became scarce. For businesses such as abattoirs, health rules in states like Victoria restricted beef, lamb and pork processing to two-thirds of normal output.
---


Read more:
Floods, pandemics, wars and the market: what's driving the price of milk


---
Too many people buying, not enough products to sell, and difficulty moving goods created an imbalance between supply and demand, which pushed up prices globally from late 2020 onwards.
Then Russia invaded Ukraine
In early 2022 just as the world was preparing to open up, Russia invaded Ukraine.
The war triggered an energy crisis. Russia, a major global supplier of gas and oil, was driven out of several markets by international sanctions in what is a textbook trigger for inflation.
In the first wave, petrol, gas and electricity skyrocketed. In Australia, petrol stations reflect changes in international markets in a matter of days. We paid $2.50 per litre at the pump.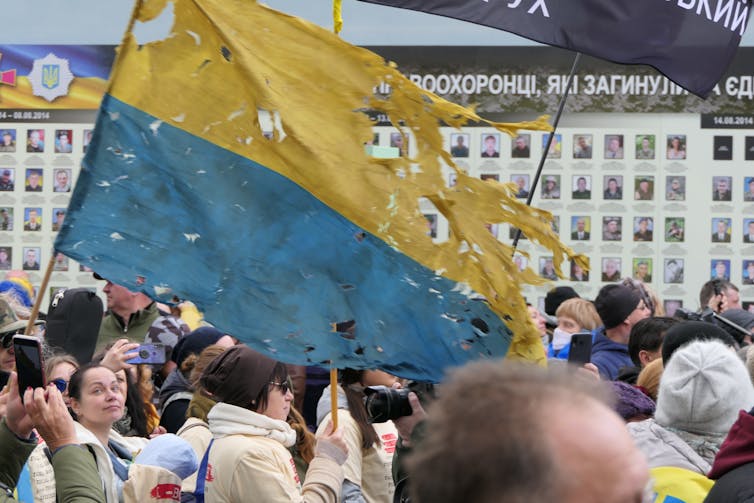 The second wave came as long-term contracts were renegotiated. Industries lock in prices with energy providers months in advance, meaning an increase in costs today takes time to make its way through the system.
The third wave came as prices for parts, components and materials increased downstream in a domino effect.
As an example, the increase in energy prices in early 2022 led to a rise in steel prices in late 2022, reaching home appliance prices in early 2023, and the price of goods sold in shops only in recent months.
And climate change accelerated
The pandemic's disruptive effects lasted about two years. The war in Ukraine may go for longer, hopefully not. But the time span of both pales when confronted with something that will impact Australians for generations: climate change.
One significant consequence is extreme weather.
The Bureau of Meteorology's report on the State of the Climate 2022 highlights the ongoing changes for Australia including amplified storms, floods, droughts, heatwaves and blizzards with "one in a 100 year" events multiplying.
Each brings disruption to supply chains, pushing up prices.
Take the rollercoaster ride of an iceberg lettuce going from $2.50 to $12.50 due to floods in Australia last year. Now it's back to about $3.90.
---


Read more:
Why is lettuce so expensive? Costs have shot up, and won't return


---
Or the shortage of frozen chips due to droughts in Europe and floods in New Zealand earlier this year.
Or the recent ban from India on rice exports due to extreme monsoons in South Asia, set to increase international rice prices above the 14% increase already seen in the past year. Supply uncertainty fuels inflation.
---


Read more:
What's driving the potato chip shortage and when will it pass?


---
The move to renewables, which is fundamental to mitigating climate change, has a price tag attached to it at the moment. Net-zero targets require considerable investment by businesses as they move to green energy and materials.
While there will be a long-term return, there are costs now.
Preparing the factory floor against heatwaves (installing fans), floods (relocating sites), and disruptions (building inventory) drive up prices. On top of that, insurance premiums are on the rise, some becoming prohibitive.
Yet there's a silver lining
This list of inflation drivers is not exhaustive as there are more forces at play, among them labour shortages, population growth and the housing crisis.
But there is good news. Supply chains are more robust after the pandemic, evidenced by container transport prices going back to what they were in 2020. The world is moving away from fossil fuels faster after the invasion of Ukraine.
Wind and solar energy are becoming cheaper at a remarkable rate, and there is promising news on hydrogen as a fuel. Business continuity plans to minimise disruptions in the face of extreme weather are stronger than before.
Supply and demand should soon find a new lasting equilibrium.
Prices will not go back to what they were, but there is every reason to believe the increases will be tamed sooner rather than later. It will be a welcome relief.
---


Read more:
You don't have to be an economist to know Australia is in a cost of living crisis. What are the signs and what needs to change?


---


This article is republished from The Conversation under a Creative Commons license. Read the original article here.