the challenge ahead for new chief Vanessa Hudson


This article is republished from The Conversation under a Creative Commons license. Read the original article here.

Vanessa Hudson, who will replace Alan Joyce as Qantas Airlines' chief executive in November, inherits an airline still struggling to resume services after the pandemic and border closures shuttered much of the global aviation industry in 2020.
The silver lining for Qantas has been that high demand for air travel has enabled it to charge higher airfares. It even managed to report a A$1.43 billion profit in the second half of 2022.
But these conditions won't last. As Hudson – an accountant who joined Qantas in 1994 and has been chief customer officer since 2018 – deals with the highly unusual short-term challenges that come with recovery, she will increasingly have to turn her mind to all the long-term challenges that existed for Australia's flagship airline before 2020.
High demand, but not enough planes or staff
There are two main reasons demand for air travel is recovering faster than supply.
First is the time and effort to return to service the aircraft stored during the pandemic, parked at regional inland airports and plane storage sites. Qantas put about 100 of its 126 planes into storage, retired six ageing Boeing 747s and deferred delivery of new Airbus A321neo and Boeing 787-9 planes.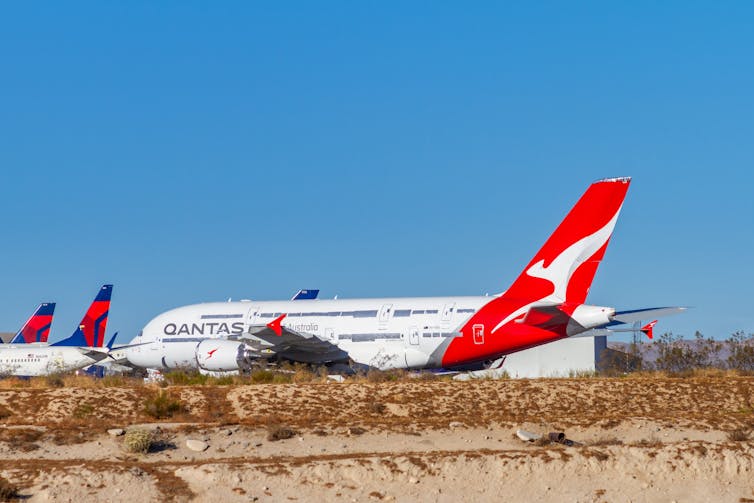 Never in the history of civil aviation have airlines had to store so many aircraft. Returning them to service requires exhaustive maintenance checks and tests. Limited skilled maintenance crew can only ready so many aircraft to return to flying.
Which leads to the second, more important, issue: the need to fill jobs.
Even before the pandemic, the industry was grappling with a global shortage of experienced pilots. Now it's grappling with replacing all the workers – air and ground crew – retrenched when borders were closed in 2020.
Qantas laid off almost a third of its 30,000 employees, included unlawfully retrenching almost 2,000 ground-crew workers. It is now looking to recruit about 2,000 workers by the end of 2024 and a total of 8,500 by the end of the decade.
Many who have found employment in different industries are not returning. Some in the industry fear aviation is no longer an attractive career. And the pilots, flight attendants and mechanics that are being re-employed all require refresher training before being cleared to work.
---


Read more:
Averting a plane crash: what to do about the global pilot shortage


---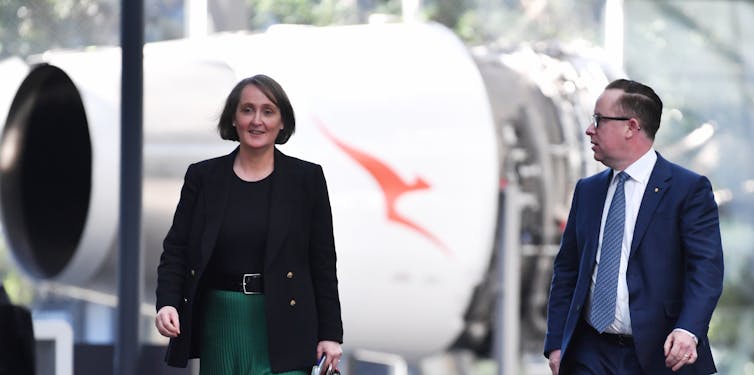 Labour shortages are affecting the entire aviation supply chain, including manufacturers. Qantas currently faces delays of about six months on new aircraft deliveries.
Competing for customers
Competition for customers will be a relatively minor concern as Qantas struggles to catch up to demand. But this won't last as airlines rebuild fleet capability, and current high prices for air travel decline. In the US market, for instance, airfares returned to their pre-pandemic levels (in inflation-adjusted terms) at the end of 2022.
By the end of 2023 or early 2024, I expect Qantas will be grappling with substantially the same competitive pressures that drove its pre-pandemic cost-cutting and outsourcing. For this, it can partly blame global government assistance to airlines, which had the perverse consequence of fewer airline collapses in 2020 than in 2018 or 2019.
While Qantas turned a profit for each year between 2015-2019, profit margins were quite thin.
There has been a lot of talk that the pandemic changed the air-travel market irrevocably. Business travel, for example, may never recover. Consulting firm McKinsey predicted in February 2021 that the post-pandemic market of business travel would be 20% smaller.
With the jury still out on this and other questions, the challenge for Qantas and other airlines will be to plan and adapt services accordingly.
---


Read more:
Qantas, the trying kangaroo: why things won't get better any time soon


---
New challenges for an ageing fleet
Longer term, Qantas must reduce its environmental footprint.
From 2027, all international air carriers will be required to offset the carbon emissions associated with flights – a condition set by the International Civil Aviation Organization's Carbon Offsetting and Reduction Scheme for International Aviation.
More generally, the drive to decarbonise commercial aviation also makes stricter domestic environmental requirements very likely.
This will be harder for Qantas than competitors, due to airline's extensive network of medium and long-haul flights (which use more fuel) and ageing, less fuel-efficient fleet.
The average age of the Qantas fleet is just over 15 years, more than double that of rivals such as Singapore Airlines. Fleet renewal will be a formidable task.


This article is republished from The Conversation under a Creative Commons license. Read the original article here.