Want to be a social media influencer? You might want to think again


This article is republished from The Conversation under a Creative Commons license. Read the original article here.

Canadians spend more than two hours per day on social media platforms. Social media is becoming more prevalent every day, and influencers and those that want to be influencers are too.
Influencing is an all-new career option that, until recently, didn't exist. A social media influencer is someone who has established a reputation for being knowledgeable about a specific topic or industry and has an online following that they engage with.
Social media influencers build relationships with their followers through the content they share and interactions on live streams, comments and chats. This in turn builds a greater sense of community and ultimately gives influencers more influential power. However, the world of influencing is not always as honest and exciting as it's cracked up to be.
Allure of influencing
As experts in social media and health outcomes, we recently examined the aspirations, desires and rationales of becoming a social media influencer among young adults. We asked 750 Canadians between 16-30 years old, who were mostly women, about their social media use and thoughts about social media influencers.
The results showed that 75 per cent of participants wanted to become social media influencers. The top three stated reasons for wanting to become social media influencers were for the money, being able to try new products or services and because they thought the work would be fun.
Other factors, such as excessive social media use; knowing, following or trusting influencers; and being willing to accept money to market a product even if they didn't like it, also informed aspirations to become a social media influencer.
Influencers often edit their content, creating a highly desirable image that is not always reflective of reality. Some might promote products they may not truly believe in or like for financial gain. This suggests not all social media influencers are as trusting as users perceive them to be.
According to one U.S. study, one-third of young people trust health influencers on TikTok more than their doctors. This is seriously concerning, as influencers do not need any academic or professional credentials, and tend to curate their online persona through opinions rather than facts.
More disadvantages than benefits
Many social media users feel a career as an influencer is more desirable than a traditional career. Influencers tend to be idolized, especially by younger generations. So it's not surprising that many of them are interested in a career in influencing. However, the disadvantages may outweigh the benefits.
Most participants in our study cited financial gain as the main reason for wanting to become a social media influencer, but the career might not be as lucrative as some think. It is true that top influencers can earn millions of dollars on their respective platforms, but this is the exception rather than the rule.
The average user who monetizes their content will bring in significantly less depending on the platform, number of followers, method of marketing and the type of content they are creating.
While there is limited research on what types of content are easier to monetize, many top influencers belong to different genres. That suggests intangible factors, like how authentic an influencer is perceived to be and how well they communicate and connect with their followers, are the most important keys to success.
Some platforms such as YouTube require meeting certain thresholds of subscribers and viewers before content can be monetized, with no guarantee that the creator will ever meet that threshold, even if they post regularly.
On top of an unpredictable income, another disadvantage is volatile job security. Social media networking sites use algorithms to sort posts on a user's feed to ensure that the user sees content that the algorithm deems is relevant to them at any given time.
As this technology advances, it is becoming more difficult than ever to predict how algorithms popularize content. Even well-established content creators struggle to diversify their content and meet the ever-changing demands of seemingly random algorithms.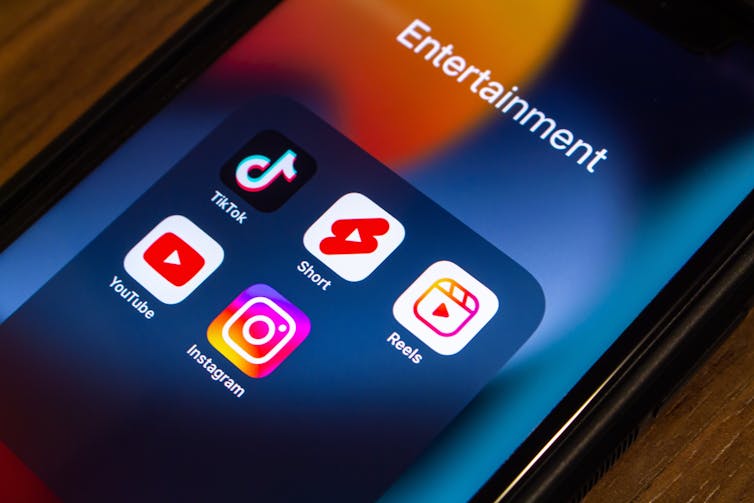 Unforeseen challenges
Unforeseen national policy changes can also add uncertainty. Canada's impending Bill C-11 will require streaming platforms like YouTube to promote a minimum amount of Canadian content to its Canadian users.
This is worrisome for some Canadian content creators, as Bill C-11 does not specifically define what is considered Canadian content, and has the potential to reduce the visibility of their content and make it difficult for them to reach the same number of users.
Similarly, the TikTok bans in Canada, the U.S. and elsewhere have some content creators on edge about potentially losing access to the platform.
All these issues make influencing a difficult career to break into and maintain. It is important for those interested in making a career out of influencing to be aware of these challenges.
As a form of independent entrepreneurship, influencing comes with no regulation, training or support. The result of this can be young content creators struggling with physical and mental health issues brought on by cyberbullying and high stress.
With more young people wanting to be influencers, it is our job to educate rather than dissuade. By highlighting these realities, we hope to mitigate some of the negative outcomes associated with a career in social media influencing.


This article is republished from The Conversation under a Creative Commons license. Read the original article here.