What would history look like if women were the main characters? Gold Diggers gives us a very funny, refreshingly accurate answer


This article is republished from The Conversation under a Creative Commons license. Read the original article here.

In the small Victorian goldfields township of Kingower in 1860, two women, the "notorious" Hobart Town Annie and Tipperary Poll, thrashed a man who had accused the pair of theft.
He was rescued by a crowd, at whom Annie and Poll began pitching bottles.
"Women are allowed an amount of latitude here," concluded a contemporary newspaper report.
I was reminded of Hobart Town Annie and Tipperary Poll – keepers of a house "not of good repute" – when watching the new ABC series Gold Diggers. Not to sully the good names of Gold Diggers' indomitable heroines, naturally.
As a screen representation of history, Gold Diggers is often refreshingly accurate.
Gold Diggers displays the demographically diverse population, layers of dirt and grime (women on the diggings wrote of daily struggles associated with dust and mud "up to the knees"), the variety of dwellings from canvas tents and bark huts to mansions, the potential for violence, interracial relationships and the often easy vulgarity.
In the 19th century and into the 20th century, historians entrenched male-centred and mythologised Australian histories. But contemporary feminist historians have been challenging these notions.
Somewhat surprisingly, comedies like Gold Diggers may well help them with the task.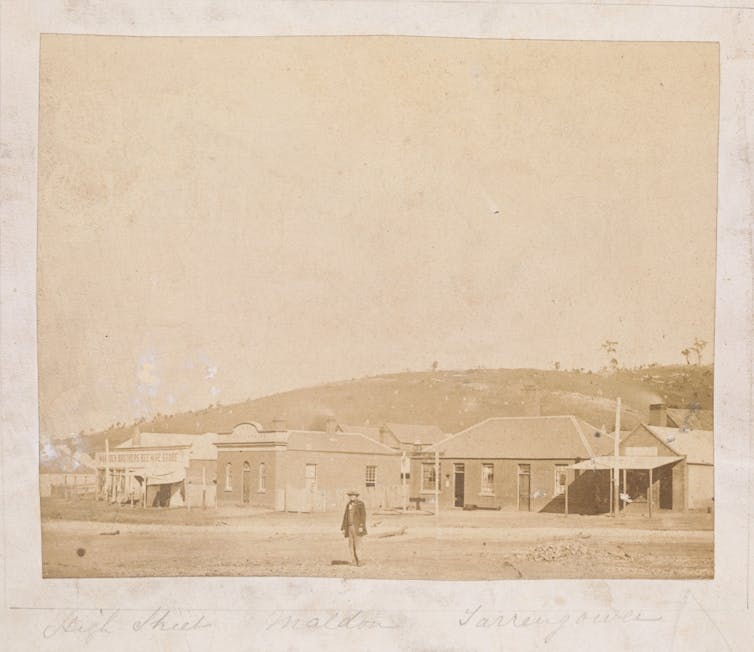 Golden girls
Gold Diggers tells the story of Gert (Claire Lovering) and Marigold "Goldie" Brewer (Danielle Walker), arriving optimistic and intent on a good time to Dead Horse Gap on the diggings in 1853, apparently on the lam. This puts them among the many with convict origins who flocked to the goldfields, embracing the opportunity for riches and reinvention.
In Dead Horse Gap, Gert and Marigold think themselves the only single ladies expecting to claim a pair of well-heeled husbands ("newly minted dumb-dumbs").
In reality, the sisters would have been among the boatloads of single women who travelled to the Victorian goldfields to secure a new husband and a new life.
Played as a farce (reminiscent of theatricals common on the goldfields) Gold Diggers is almost accidentally accurate in its extremes.
Gert and Goldie are seeking refinement but are helplessly attracted to the tawdry. This reflects historical depictions of women's opposite roles on the goldfields, either helpmate or playmate. In fact, most women were complicated, neither totally one of these tropes nor the other.
Even the seemingly absurd name of Dead Horse Gap is closely aligned with at least two 1850s goldfields, Dead Horse Flat (near Bendigo) and Dead Horse Gully (near Ballarat). There is even a Dead Horse Gap, 500 km north-east of the goldfields, in Kosciuszko National Park.
While some historians persist in depicting the early Victorian goldfields as a predominantly masculine, transient and overtly-exuberant environment, the truth was more nuanced.
The goldfields attracted people of all classes, genders and nationalities. Single men, single women and newlyweds all made their way to the Victorian diggings.
Unlike many other international rushes where men typically travelled alone from overseas, women and families were already in the colony. Established families, therefore, were able to travel on to the goldfields quickly and relatively easily.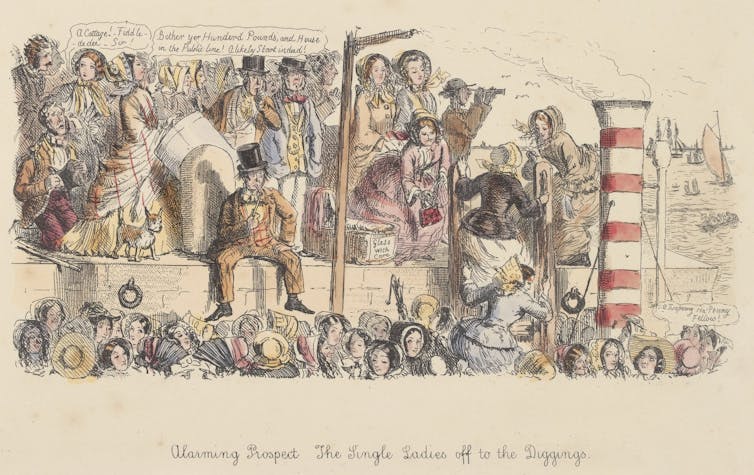 ---


Read more:
Flashers, femmes and other forgotten figures of the Eureka Stockade


---
'Wife material is a heavy fabric'
Gold Diggers presents an answer to a question I often return to: what would history look like if women were the main characters?
Much of history has been written on men, by men. Feminist historians of the goldfields are working to relocate women back into their own stories.
As the colonial newspaper reported of Hobart Town Annie and Tipperary Poll, women were often allowed an amount of latitude on the diggings. This formed part of its appeal for women, young and old.
My own research focuses on the goldfields as a domestic landscape, a place of women and home and family. In February 1852, for example, Englishwoman Mary Ann Allen travelled to the Forest Creek diggings with her husband and eight children. The youngest was aged only five.
Rather than stay behind with her young family in Melbourne, Mary Ann chose to be an equal participant in the adventure.
---


Read more:
Hidden women of history: how mother of 8, Mary Anne Allen, made do on the goldfields amid gunshots, rain and sly grog


---
Clare Wright's powerful The Forgotten Rebels of Eureka situates women as critical participants in the political, social and domestic landscape of the 1854 Eureka Stockade. In Wright's portrayal, women are central to the action of Eureka, not helpless bystanders – much like the Brewer sisters' determination to "rise up" to both the occasion and the situation.
In 1856, Englishwoman Fanny Finch, the subject of Kacey Sinclair's research, was one of the first known women to vote in an Australian election.
Making the feat even more striking, Finch was of African heritage, a goldfields businesswoman and a single mother of four: a notable example of a diversity that is hard to trace in the archives. While much is known from the archives about the white and Chinese settlers on the goldfields, little is known about those of other backgrounds, other than the fact they were there.
---


Read more:
Hidden women of history: Australia's first known female voter, the famous Mrs Fanny Finch


---
In Gold Diggers, Vic (Perry Mooney) and Molly (Kartanya Maynard) provide this often missing voice for women of colour on the diggings. Molly shines as the pithy activist and self-care advocate of Dead Horse Gap, admonishing the colonists to "do better". It's not all action, as Molly reminds Vic, "resting is resistance".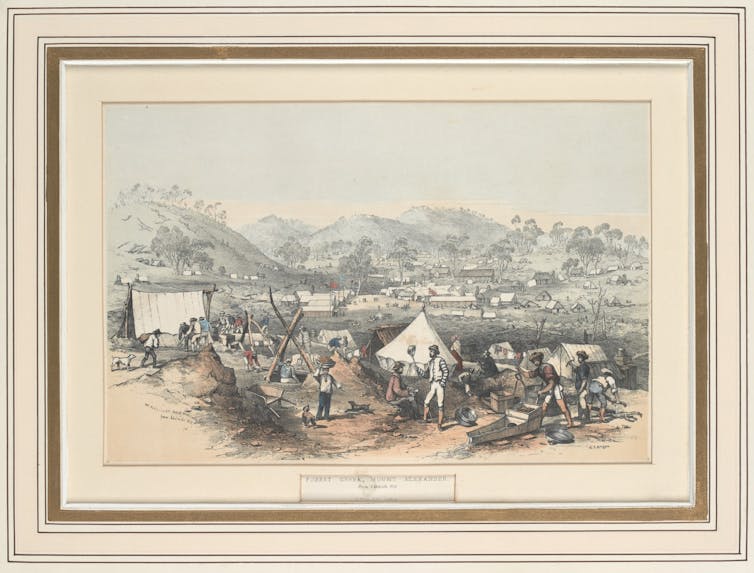 Girls like us
The possibilities of reinvention and wealth attracted people from all over the globe. Subsequently, the goldfields became a microcosm of a diverse society.
All living cheek-by-jowl, all intent on leveraging an opportunity they may not be presented with again. All hoping – as with Gert and Goldie – they would claim a new future.
The Brewer sisters' farcical, theatrical exaggerations show us enticing glimmers of an underrepresented reality.


This article is republished from The Conversation under a Creative Commons license. Read the original article here.