Why we'll keep finding meaning in the 'Oedipus Rex' plague drama far beyond COVID-19


This article is republished from The Conversation under a Creative Commons license. Read the original article here.

Now that the World Health Organization has said COVID-19 "no longer constitutes a public health emergency of international concern" but is instead "an ongoing health issue," how will theatre makers and audiences read plague- and pandemic-themed plays?
During the peak of the COVID-19 pandemic, the character Oedipus and the ancient Greek drama based on his tragedy was suddenly everywhere. A figure from ancient Greek myth who was fated to kill his father and marry his mother, Oedipus has been most famous over the last century for the controversial "complex" that Sigmund Freud named after him.
In the pandemic, out of the shadows of Freud, the world remembered Sophocles' Oedipus Tyrannus (Oedipus Rex /Oedipus the King) was not just a psycho-sexual drama, but a play about a city-devastating plague, most likely first produced in 429 BCE after an unknown disease swept through Athens.
My new edited volume follows global trends in how theatre artists receive and interpret Greek tragedy in contextualizing a Montréal-based theatre company's new translations of Greek tragedy.
Oedipus abounded
In the first year of the pandemic, public commentary compared former U.S. president Donald Trump to Oedipus.
In Los Angeles, a Chicanx version of Oedipus Rex, Oedipus El Rey, written by Luis Alfaro and directed by Chay Yew, was streaming live from the Center Theatre Group in partnership with the Getty Museum.
The excellent Theater of War company, under the direction of Brooklyn, N.Y.-based Bryan Doerries, produced a star-studded zoom version in May 2020, The Oedipus Project, dedicated to first responders.
Theban plague parallels
Vietnamese audiences saw what's believed to be the first-ever Vietnamese production of King Oedipus through an online festival in May 2021. The play, directed by Bùi Nhu Lai, was performed and streamed at the 6th Asian Theatre Schools Festival held in Beijing, by the Hà Nội Academy of Theatre and Cinema.
And as pandemic restrictions began to ease, Oedipus came back to stages. The Athens/Epidaurus festival reopened in its ancient venues with a version of the play first produced at Berlin's famous Schaubühne theatre, ödipus, written by Maja Zade and directed by Thomas Ostermeier.
While some revelled in the fresh take on Oedipus these performances brought, at least one critic wondered if maybe we shouldn't search for a direct parallel between the Theban plague killing Oedipus's subjects and COVID-19.
Multiple crises
As if in response, Doerries' The Oedipus Project named its themes as the pandemic and the climate crisis.
When asked by the Guardian's theatre critic "What play do you think most speaks to this time we are living through?", Ostermeier answered Oedipus, saying:
"Oedipus himself is the origin of the plague, because he killed his own father. That is not only true of the pandemic; we are also the origin of an even bigger drama, the drama of our time: global warming."
Montréal productions
My edited volume Scapegoat Carnivale's Tragic Trilogy documents how between 2010 and 2017, the Montréal theatre company Scapegoat Carnivale produced Euripides' Medea and Bacchae, and Sophocles' Oedipus Tyrannus.
Through contributors' essays that discuss the plays' ancient themes and their current reception histories, this volume tries to tease out tensions: When we ask "why now" of ancient works, we can always come up with an answer, but we don't always need to.
The Greek tragedies might have been written to work through fifth-century Athens' own cultural anxieties, but even in Sophocles' day, they did so through a mythical past, one as removed from Sophocles as he is from anyone today.
Plague concerns folded into myth
If Sophocles wrote Oedipus Tyrannus in part as a response to the Athenian plague, he folded that concern into a myth that accommodates today's diverse and changing global anxieties just as well as his own.
As Aristotle says, poetry, unlike history, is not concerned with particular facts, but instead with general truths.
And Sophocles is a poet, a playwright composing in verse. As I produced Scapegoat's literal translation of Oedipus Tyrannus for playwright Joseph Shragge to adapt, I often found myself on the edge of my seat as I worked through the play line by line.
Oedipus Rex is a perfect mystery-box play, balancing horror and humour, with each scene bringing new revelations, ratcheting up tensions around who Oedipus actually is. Tension builds about who he is in relation to Jocasta, until the terrible denouement reveals her to Oedipus as both his mother and wife, and the play sees her dead and him blinded, both by self-inflicted wounds.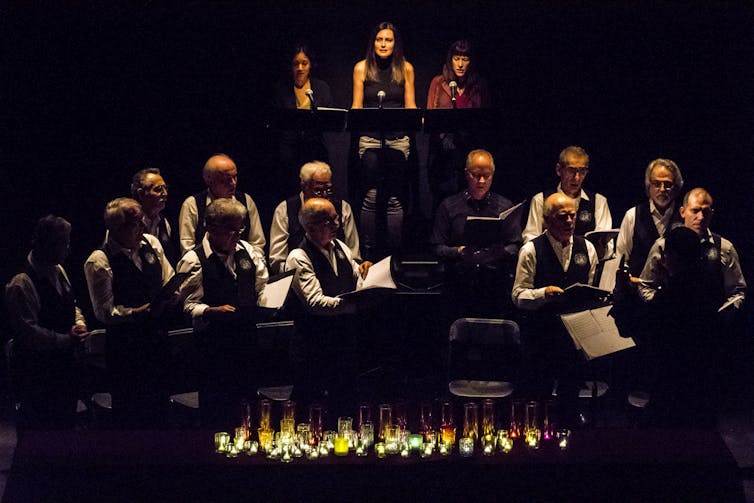 'The city … unable to lift her head'
In Scapegoat's contemporary-set staged reading, Shragge's clean style perfectly captured Sophocles' irony, humour and pathos. Scapegoat's minimalist staging favoured people over props, with a massive chorus composed of three local choirs.
The result was over 65 people on stage, a wall of people on risers all around the actors, enveloping them in soaring choral compositions by Brian Lipson. It was Oedipus's (Marcel Jeannin) tragedy, but it was impossible to forget the people whom it affected, as the prologue's priest (Mike Payette) told us:
"The city, as you can see, tosses, unable to lift her head from the depths, such are the waves that waste the bud before it blooms, the ox herd in the field, and the unborn child in the womb."
Long-suffering Thebans
To see Oedipus and all his long-suffering Thebans embodied onstage (for me, for the first time), mattered, despite Aristotle's claim that the play is just as good without actually seeing this.
Critics agreed, with Montreal Gazette theatre critic Jim Burke "reminded of what a devastatingly effective play Oedipus is," while others cited Shragge's "beautiful adaptation" making the show "a must-see" and "the event of the theatrical season."
For three shows, I went and sat in a crowded theatre and watched Oedipus's tragedy unfold, and I laughed and I gasped and I wept. I still get shivers thinking of the choral solo by Gitanjali Jain, describing Thebes' unending deaths:
"men fly away like birds / faster than unquenchable flame / one by one / to the god of the evening shore."
COVID-19 is no longer a global emergency, but in Sophocles' Thebes, all around Oedipus, the plague rages as ever. And Scapegoat's new translation, like countless others, waits for readers to find new delights in its words, audiences to find new terrors in its enactment and creators to make new meanings of its myth.


This article is republished from The Conversation under a Creative Commons license. Read the original article here.