Women's World Cup: what still needs to be done to improve the lot of elite female footballers


This article is republished from The Conversation under a Creative Commons license. Read the original article here.

The Fifa Women's World Cup is just 32 years old and on its eighth official edition, while the men's competition began 93 years ago and has enjoyed 22 tournaments.
After the success of the 2019 WWC in France, the women's competition has progressed to new heights for 2023 in Australia and New Zealand. There are more teams than ever competing, in front of the biggest TV audiences, with each player to be paid directly, guaranteeing prize money for the first time.
It's fair to assume that this Women's World Cup is probably the most significant women's sporting event in history, although this won't be the last time we hear that phrase. The trajectory of women's sport is continually rising – and arguably there has never been a better time to be involved in sport as a woman.
But for so long women have fought for a more equal footing within the male-dominated world of sport, and researchers have long highlighted the lack of equality in the game. So, as participation levels rise, TV viewing figures increase and sponsorship income improves year on year, we might ask: what's left to achieve for women in football?
Alongside other researchers, I have written about the gender gap in professional and elite-level women's football in the last few years. This body of work pays attention to some key – and in many ways overlapping and interlinked – issues in women's sport, including equal pay, injury, menstruation and maternity rights.
One of the most significant developments for women's sport is the discussion on equal pay in football, advanced mainly by the US women's national team.
This World Cup has seen the biggest investment of money from Fifa yet: US$152m (£118m) to ensure that all players are paid and prize money is increased and on a "pathway to equality" with the men's tournament. Fifa has also ensured that standards across staffing, base camps, accommodation and travel are delivered to the same level as the men's competition.
Facilities and healthcare
However, despite the starry heights reached by the qualified teams, a recent report by the world players' union Fifpro found that there remain stark inequalities in women's football across the globe.
A total of 362 women across teams attempting to qualify for this World Cup were surveyed, with 70% reporting poor gym facilities, 66% reporting poor or non-existent recovery facilities, and 54% saying they were not provided with a pre-tournament medical.
In addition 66% players had to take unpaid leave or vacation from work and almost 33% did not receive any compensation. So there is work to be done in the elite women's game.
Injuries
Given the findings from Fifpro on facilities, pitches and payment, it comes as no surprise that injury has become a hot topic of interest within women's football. According to sports medicine specialists, women are six times more likely to rupture their anterior cruciate ligament (ACL), and for this World Cup, nine of the top players are absent with the injury.
Gendered environment
The field of sport science has been heavily criticised for its male-dominated approach, where only 6% of research looks exclusively at women. Only now are we seeing a drive to develop female-specific equipment in response to player concerns, as scientists start to address the gender imbalance in sports technology.
A powerful piece published in the British Journal of Sports Medicine highlights a gendered environment approach to understanding ACL injuries. This work describes how the social construction of gender affects the ACL injury cycle across the whole life of the athlete.
This includes how boys and girls learn to move (often differently) alongside inadequate training and competition environments for girls, and gendered cultural body norms – often women competing in sport are considered "unfeminine", with athletic, muscular bodies traditionally associated with masculinity.
In some countries, like Brazil, for example, female players in the past have struggled to be accepted in the face "cultural disapproval". It's an interesting and useful approach that highlights the complexity of women and girls' involvement in sport.
Proper football kit
Menstruation, menopause and female hormone profiles across puberty, have been thought to have some impact on sports performance and injury. However, we're only now seeing changes made to player uniforms – namely no white shorts – in response to player fears around menstruation and leaking, to take one example.
This is part of a broader shift in sportswear manufacturers finally creating women-specific kit instead of the "hand-me-down men's kit" culture many ex-players experienced.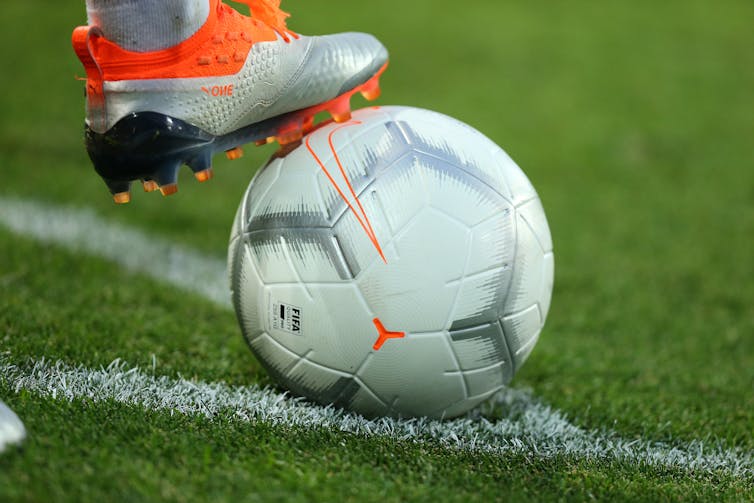 Women's bodies and experiences
This World Cup will see a number of players taking to the pitch as mothers. Despite the increasing number of professional women footballers, their employment rights as mothers have often been overlooked. This has led to numbers of women quitting the sport early to have children, and research has shown that players have struggled to combine professional football careers with motherhood.
Fifa regulations launched at the end of 2020 provided players with paid maternity leave for the first time. However, we know in some cases players have concerns about taking maternity leave.
For example, would their clubs think they are less committed to the sport? Would their bodies recover to their pre-pregnancy form? Here, access to health support and adequate facilities, as well as being properly paid, becomes key, as well as broader cultural change within the sport to normalise pregnancy and motherhood.
It's clear that women's football has never been in a better place, and the World Cup is currently a fine showcase for it, but it's crucial that the female game to continues to strive for improvement in areas that fundamentally affect the lives and careers of its players.


This article is republished from The Conversation under a Creative Commons license. Read the original article here.